· District Heating SCADA system
Monitoring andcontrolling heat network system (SCADA)

Introduction of SCADA:

The SCADA(Supervisory Control And Data Acquisition) is the system of data acquisition and monitoring control. The SCADA system is the production process control and dispatching automation system which is based on the computer. It can monitor and control the running equipment on the scene, in order to realize data acquisition, equipment control, measure and parameters adjustment and all kinds of signal alarm, and other functions.Monitoring andcontrolling system (SCADA) is designed for heat network dispatching automation, it sets the man-machine interface and database management, the computer network, the remote data communication, the process control and signal detection and other advanced technology in a body. It is an important sign of the district heating and achieve modernization management.

SCADA system perfect solutions:

We can do:
 Processing > 10 million data points
 Support > 2000 distributed system
 Security > distributed real-time hot backup in its true sense
 With the foundation of individual development function for the customer

System advantages:
 Modular, controllable scale
 High reliability
 Distributed system structure
 Integrated safety standards
 Flexibility and customization
 Supports Windows, Linux and Solaris operating
system




Modular functional structure:
 Modular functional design and suitable for
large systems
 Distributed function structure and optimize
the allocation of resources system
 Break through the physical connection limit,
increase flexibility system



System hot redundancy:
 Real real-time hot backup server
 All operator stations switch the Lord/standby
servers automatically
 Realize redundancy net connection

A distributed system (more server):
 Realize border-crossing distributed
system structure
Connect 2000 distributed system
 A high security data communication SIL3



An open data communication transmission:
 Solve UDP/TCP compatibility connection
Many kinds of international general agreement support
targeted driver of agreement, such as Modbus IP, OPC,
Perfibus and so on.It can compatible with the following
products that are not open agreement.
Establish standard and open database as data base,
in order to realize the organic combination of the
variety of data transmission way through wired and
wireless data transmission. It can realize data
transmission through the ADSL, 3G wireless network,
and optical fiber hybrid network.
 Offers a variety of data access interface
It is combined with real-time hydraulic analysis
simulation software, establishs network operation
expert system, support with other system docking,
realize the sharing of data resources.


The picture of system function introduction:
 Monitoring procedure
It can check heat exchange real-time parameters through the flow chart, control operation the heat exchange station and valve, change running status as well;
The SCADA system can be combined with digital IT advanced technology organically, realize monitoring the heat exchange station by remote video;
Web function, identify account level, IE browser can check system screen.
 Competent nets monitoring menu
According to map and heating network competent line, drawing competent nets monitoring menu which including each heat exchanger station, competent nets route etc. You can see competent nets lines, heat source and the distribution of heat exchanger station intuitively.



Jiamusi pipe network system diagram

System communication topology
The topology is consist of systematic device to connect and the communication group of site conditions. System communication picture contain each heat exchange stations and heat source, you can directly see heat exchanger station communication through the communication figure.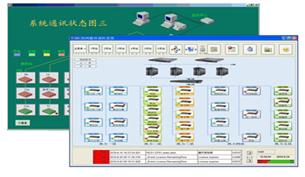 Communication system state chart

Pressure diagram
First time supply and return water pressure of the heat exchanger station is displayed in the various regions of the map, you can see all the competent nets pressure intuitively and whether each pipe network operate normally through the pressure. In addition, you can analyse the operation of each pipe network through the pressure monitoring menu in the flux adjustment.

 Real-time trends
According to all the parameters of acquisition
and the calculations of the parameters, it is
convenient to establish real-time trends picture
display. This picture can be amplified, narrowed,
and with time and digital one-to-one correspondence
displayed.


 Historical trends
Dynamic display the history of heat exchanger data curves, it also can show multiple trends at the same time that is convenient to contrast, analysis and set time slot at will.

 One-click data report
System and database with seamless, and achieved the flexibility of One-click report output; Match with Excel perfectly. According to monitor parameter limit configuration, the real-time data report is that collecting data through real-time high-low limit remind discoloration; The system will complete store the collect data in a database. Thus, it is convenient for operation manager to analysis operating condition of heat exchanger station.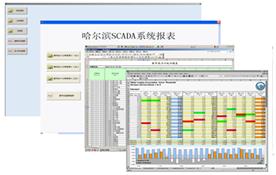 Harbin SCADA system reports

Outdoor temperature downstream
Collecting each standard outdoor temperature, calculating averages, downloading average value to other heat exchanger station, unified management.

 Programmed control in time
Events are triggered by time or data condition,
a number of different time intervals conditions
(periodically or calendar) the date/time list,
day plan, week program, for free.



 Whole network scheduling
Considering the whole situation when we design system. The system has the clear and effective network control strategy and energy saving control strategy. Focus on the firstgrade nets of hydraulic balance control and the whole network energy control strategy. Use the distributed control theory and senior cascade control algorithm to adjust the problem of heating time lag. Combined with real-time pressure diagram, assess online control effect, set up a perfect historical database, analysis the data of history, guide actual heating operation.

The modern network SCADA system is not just collecting and storing the data and the simple function of remote control. But more, much more than this is that analysis and operation management of the energy consumption on the basis of SCADA data; With the SCADA system to the axis of multisystem joint management.  Energy management
 Hydraulic circulation diagnosis system
 Energy saving system
 Expert system
 Billing system